At Master Pumps, we help our customers find the perfect vertical turbine pump for their application, and we never sacrifice on durability.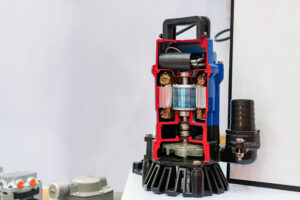 From their use in bored wells and cooling towers, to turf and agricultural irrigation, to their ability to provide plant make-up water and tap into the ground water supply, Master Pumps understands that professionals across a wide range of industries rely on vertical turbine pumps for their durability and dependability. When you need high pressure clean water, Master Pumps can deliver the perfect vertical turbine pump for your processes. We carry vertical turbine pumps in a variety of flow rates, pressure heads, and construction materials, so we can be sure to customize your delivery and match your businesses to a pump with all the characteristics you need.
Whether you need a pump built for water, butane, heavy corrosives, or a different application, Master Pumps has you covered. At Master Pumps, we understand the importance of reliable vertical turbine pumps. Unreliable equipment leads to downtimes, which can mean inefficiencies and ultimately, lost profits. That's why reliability is our number one priority. We use materials like cast iron, cast bronze, and stainless steel to allow for years of efficient use. From our pumps' motors and discharge heads, to flanged columns, bowls, and basket strainers, all components of our vertical turbine pumps are built with durability and dependability in mind.
Master Pumps produces high quality vertical turbine pumps designed to last and remain strong and durable for many decades, reducing the cost of lifetime ownership substantially. Our vertical turbine pumps are crafted to exceed application expectations, so they won't fail when you need to depend on them most. With a wide variety of products to choose from, you're sure to find the perfect vertical turbine pump for your application at Master Pumps.
Don't let your business grind to a halt when your equipment isn't working properly. Master Pumps offers state-of-the-art pumps of all kinds, all shapes, and all sizes. As leading pump distributors, we have a huge inventory of pumps, engines, and gensets. We also have in-house capabilities for custom design and fabrication. We're uniquely positioned to offer our vertical turbine pumps at wholesale prices, providing quality materials at lower rates than our competitors.
Half a Century of Experience – That's Reliability.
Contact Master Pumps if you need a reliable and affordable pump provider for your business. Master Pumps & Power has been serving a multitude of industries since 1968. With more than 50 years of experience, reliability matters to us – and we know exactly what it means to stick around.