From Bearings to Casings, Master Pumps Believes Split Case Pumps Should be Built Tough.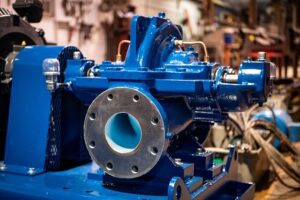 A well-made split case pump is an industrial workhorse. When manufactured correctly, they should last for years upon years without fail and require very little maintenance to continue working efficiently. Split case pumps are comprised of either two single suction impellers, or one double suction impeller. The impeller(s) are supported between bearings, which need to be constructed with top-of-the-line durability in mind. The casing in this pump is split with opposing suction and flanges for discharge.
Split case pumps are unique in that, unlike standard single suction pumps, their design allows for water to be drawn in from both sides of the pump's impeller. The result is a substantial reduction in load requirements, and ultimately, longer-lasting bearings.
Choosing the right split case pump can lead to big gains in efficiency for your operation. Split case pumps that are designed with casings that come apart should be manufactured such that quick and easy inspection of the rotor is possible without disturbance to the pump's driver or piping.
The complexity of split case pumps demands expertise in manufacturing. Whether you're looking for horizontal or vertical split case pumps, Master Pumps has you covered. At Master Pumps, we understand the importance of reliable split case pumps. Unreliable equipment leads to downtimes, which can mean inefficiencies and ultimately, lost profits. That's why Master Pumps only sells pumps built with durability and dependability in mind to allow for years upon years of reliable use that you can count on.
Master Pumps produces high-quality split case pumps designed to last and remain strong and durable for many decades, reducing the cost of lifetime ownership substantially. Our split case pumps are crafted to exceed application expectations, so they won't fail when you need to depend on them most. With a wide variety of products to choose from, you're sure to find the perfect split case pump for your application at Master Pumps.
Don't let your business grind to a halt when your equipment isn't working properly. Master Pumps offers state-of-the-art pumps of all kinds, all shapes, and all sizes. As leading pump distributors, we have a huge inventory of pumps, engines, and gensets.
We also have in-house capabilities for custom design and fabrication. We're uniquely positioned to offer our split case pumps at wholesale prices, providing quality materials at lower rates than our competitors.
Half a Century of Experience – That's Reliability.
Contact Master Pumps if you need a reliable and affordable pump provider for your business. Master Pumps & Power has been serving a multitude of industries since 1968. With more than 50 years of experience, reliability matters to us – and we know exactly what it means to stick around.